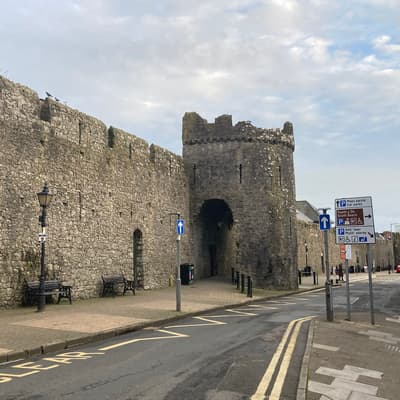 Councilors' concerns over poor condition of Tenby town walls persist
The poor condition of the historic town walls of Tenby continues to worry local councillors.
Members of Tenby Town Council were told earlier this year that plans to improve the condition of the town's walls had been stymied due to a lack of funding from Pembrokeshire County Council.
At the beginning of last year, in addition to discussing carrying out works on the walls, the city council also established a list of goals and objectives to be pursued with regard to the improvement of the five arches of the city. , which are part of the structure.
Speaking at the last City Council meeting, Clr. Ms Christine Brown asked if a response had been received from the PCC on the situation, with the Registrar stating there had been none.
Clr. Ms Brown said she was very concerned as White Lion Street was in a shocking state with weeds and pigeon droppings everywhere.
"Clr. Blackhall previously said we could do something shortly, but it's almost May. Is there anyone we could contact to try to do something? " she asked.
Clr. Ms Sue Lane said the City Council had written to the Welsh office in the past, suggesting they might now write to MP Simon Hart.
"Something has to happen – they have to work for us," she remarked.
"It's the entrance to our town," Clr continued. Mrs Brown. "Clr. Blackhall said we could get funding, but no progress so far. We have to have a plan, who do we talk to? »
The clerk said that Helen McLeod Baikie was a department head in the CCP, but due to the pre-election period, very little would happen now, but the city council could work harder after the election.
Clr. Ms. Brown said, if you read the minutes, it's like the CCP has been shut down!
Clr. Ms Lane pointed out that there were nearly 4ft tall weeds around the benches and asked that the area maintenance crew be assigned to deal with it.
She said she was president of Tenby in Bloom and her daughter had repeatedly requested over the years for access to weed spraying training, but nothing materialized.
Clr. Blackhall agreed the case seemed to drag on unanswered, but he understood the clerk about the pre-election period.
"Hopefully our new council will have this issue as an urgent item on the agenda. We need to give the relevant authorities another blitz, call a meeting to invite everyone to attend. Tell them a month in advance when the meeting will be," he said.
Clr. Ms Brown agreed that a meeting should be arranged so councilors can convey what they want.