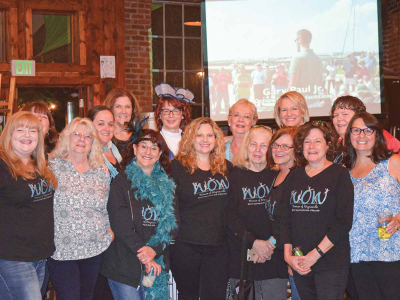 Empowered women empower their community
In 2011, Nikki White and Michelle Briggs sat on a porch drinking wine, envisioning an organization by women, for the women and children of Waynesville. They designed a team of women who would help organizations and nonprofits on the ground, already doing the work to help women and children in the community. Ten years later, Women of Waynesville not only gave massive support to these existing organizations, but also created their own philanthropic projects.
"It takes a lot of courage, determination and new ideas to start an organization and carry it through for 10 years," said chief executive Katie Vanderpool. "We try to be constantly fluid and flexible; we don't want to stagnate. We want to keep supporting new ideas, businesses and projects.
In its own words, Women of Waynesville is a bold and controversial organization committed to serving the needs of the community. It's the only all-women's organization in western North Carolina that operates the way it does – lots of wine and women's empowerment. It is this "forward-thinking" and inclusive way of serving the community that has brought so many women into the fold of WOW.
"We were invited to attend this fundraiser, battle of the bands, that WOW was hosting," current WOW President Michelle Jacobs said of the night she decided to join the organization. "We went to watch this event and I saw all these crazy women running around with drinks in their hands and you could tell they loved each other, and they loved what they were doing, and they were just cutting each other off and s were having fun. I looked at them and thought, 'I have found my people.' »
Katie Vanderpool has been with WOW since the beginning.
"From the beginning, WOW has always taken pride in the fact that we were a group of women run entirely by voluntary efforts and that we supported all things that supported women and children," Vanderpool said.
Since its inception, the group has supported local nonprofits by raising funds to provide financial support and volunteering to provide the female strength needed to get things done.
"Maybe there was a small non-profit organization and they just didn't have the bodies, the boots on the ground to be able to do things. WOW would come and provide volunteer help," Vanderpool said. "Or maybe it was a small organization and they just couldn't afford to do a lot of fundraising, or they were based on writing grants, so we were doing bigger fundraisers and ready to use for them and then give away all the profits.
Without an operating budget, WOW can give away everything it raises. Over the years, WOW has also been able to create its own philanthropic missions, one of which has been dubbed the "Stealth Mission".
Stealth Mission is intended to provide immediate social or financial assistance to women in need. WOW started this program because through their philanthropic work, they often heard about urgent needs in the community. Assistance from government and non-profit organizations can take time, but women and children in difficult situations rarely have time to wait.
"With these stealth missions, we're just helping fill a need," Vanderpool said. "We were hearing about a need in the community, a mother fleeing domestic abuse and needed help paying a down payment or deposit on a house, or someone needing gas to get to an interview hiring – little things that would normally fall through the cracks. We would pool projects or funds for this situation, where they may not qualify through another partner organization. Or they needed it within the next two days and were eager to go through the channels to have to fill out paperwork or interviews or other things that sometimes other agencies require.
One of the keys to the success of Stealth Missions is WOW's partnerships with the community. Information and understanding of who might need a stealth mission comes regularly from non-profit WOW media.
Over the years, WOW has donated hundreds of thousands of dollars to several local organizations. The Battle of the Bands fundraiser raised $10,000 for Haywood Meals on Wheels. WOW has been a Women Build sponsor and volunteer team for five years and helped the Ladies Level Up committee which raised $60,000 for an all-women-funded Habitat build. The group is a regular volunteer force and sponsor of the Haywood Pathways Center, participating in its annual Empty Bowl fundraising event.
WOW has supported both the Power of Pink 5k through the Haywood Health Foundation and WNC's Girls on the Run. During one of Mountain Projects' Share the Warmth campaigns, WOW donated $4,000 which was matched by Champion Credit Union, creating an impact of $8,000 through working with this community partner. A $500 donation to a peer support specialist at the local detention center enabled the purchase of Alcoholics Anonymous and Narcotics Anonymous recovery books and journals for inmates.
The group donated to the Pigeon Community Multicultural Development Center's summer enrichment program, volunteered when the building needed repairs following a burglary. Two of the WOW members won the crown at the Haywood County Schools Foundation's annual Mardi Gras Ball for raising the most money for the foundation that year. In total, WOW raised $45,000 for the HCS Foundation. Additionally, WOW established the Lynda Chovan Memorial Scholarship through the foundation in memory of a founding member who died in 2017.
"She was on our board and really cared about helping the community," Vanderpool said. "We lost her suddenly to a heart attack, so we developed a scholarship in her honor, and now we have the Linda Chovan Memorial Scholarship that we fundraise for every year."
Through this scholarship, WOW awards $2,000 annually to graduate senior women in Haywood County pursuing a degree in the social service industry.
WOW doesn't just extend its helping hand outward. At the heart of its philosophy is the support and commitment of its own members. The group actively strives to empower the women who make up WOW, so that WOW can better serve its community. According to Vanderpool, most meetings start with at least 30 minutes of social time, catch up, have a drink and check in before the ladies get down to business.
"Not only do we help women and children who are in emergency situations, but we also support each other," Jacobs said. "It's been a replacement family for me in many ways."
"I attribute WOW to a big part of why I stayed in Haywood County," Vanderpool said. "I found a community of like-minded women who were supportive, non-judgmental and welcoming."
So it's only fitting that in celebrating 10 years of service, WOW is celebrating with current and past members, as well as community partners.
"For me, I'm very proud of how we present ourselves to each other as members and how we present ourselves in our community," said Jessi Stone, current WOW member and past president. "As an all-volunteer organization, we understand how important it is for our volunteers to be supported so they can help others. I sincerely believe that you cannot pour from an empty cup and so we have created this culture of brotherhood and volunteerism that you will not see in other organizations. This is what sets us apart and makes WOW a real family.
For more information on WOW, visit womenofwaynesville.org .