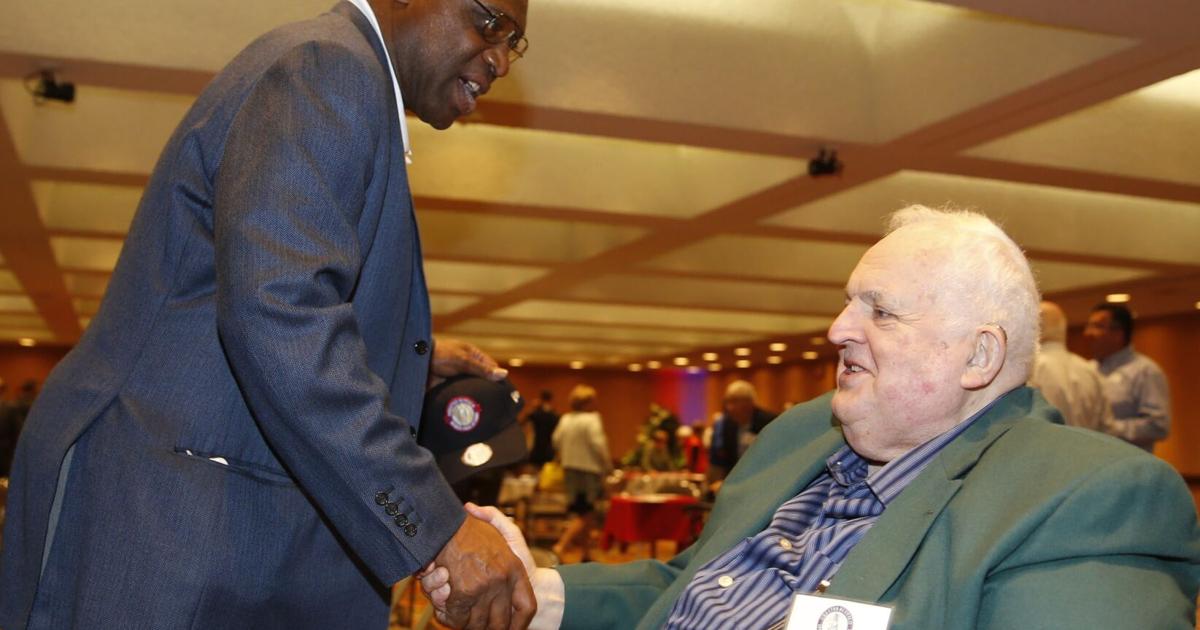 Former Bills athletic trainer Ed Abramoski dies at 88 | Buffalo Bills News | NFL
A member of the Buffalo Bills Wall of Fame for decades and a member of the team's Wall of Fame, Ed Abramoski died Friday at the age of 88. Abramoski has been a sports coach for more than 36 years, starting with the creation of the team.
Abramoski provided compassionate support to Bills players until his retirement in 1996. In 1999, he was inducted as the 14th member of the Wall of Fame.
"I can't think of anyone who has done more for the Bills than Eddie," Bills owner Ralph Wilson said at the time. "You can see how much the players care about him by seeing how many have shown up here to help honor him."
Abramoski would return the favor later, showing up to celebrate the players he had helped as they were honored. Abramoski's expertise also played a role in their success.
Booker Edgerson recalls the time he spent with Abramoski having his ankles bandaged. A cornerback in the 1960s who is also on the Wall of Fame, Edgerson got to know the "friendly" Abramoski, who would take the time to learn about each player as he dealt with them.
"He meant a lot to the team itself, because the players – all the players, all the players that came to camp – he hit because he wrapped his ankles," Edgerson said. "He was still talking. So when he rolled his ankles, he talked, or they talked to him, or he answered questions. He is like an adviser. I'm sure a lot of guys asked him, 'What should I do? How should I do it? (What is) the way I should do it?
"And he was probably giving answers and solutions about what they're doing. And I guarantee a lot of them survived boot camp thanks to Eddie.
Jovial, loyal and well-liked, Abramoski impacted decades of players as he prepared them for game day and all the days that followed.
"He meant everything to the Bills," Edgerson said.
Born November 5, 1933 in Erie, Pennsylvania, Abramoski played football growing up before later becoming a sports coach. He worked at the University of Detroit, the Detroit Lions and the United States Military Academy before becoming the Bills' head coach.
He married his wife, Pat, in 1960, and they had five children, all girls.
"They were a family of people from the community," Edgerson said.
Abramoski's care extended beyond the football field.
His biography Wall of Fame notes that he was a frequent volunteer for the New York State Special Olympics. He donated proceeds from a book he co-authored with former Buffalo News sportswriter Milt Northrop to the Shaken Baby Syndrome program at Buffalo Children's Hospital. And Abramoski was also active in the Buffalo Homing Pigeon Association.
Players teased Abramoski a bit by asking him if he was sending messages to Canada. But Abramoski knew that even with long days and nights in the season, it was important to have hobbies, and he dutifully took care of his birds.
"It was his second love, outside of football," Edgerson said.
He was awarded the International Federation Person of the Year in 2007 and enjoyed success in pigeon racing.
Abramoski has been rewarded in many areas of his life. His work with the Bills earned him induction into the National Athletic Trainers Association Hall of Fame in 1986 and the Greater Buffalo Sports Hall of Fame in 1996.
Abramoski was candid with the players about their health, being careful not to sugarcoat an injury. The rookies in particular felt they could confide in him as they were still getting to know the rest of the team. And even when downsizing happened, he was always encouraging.
"He gave them confidence, said, 'Hey, come back over there. Put everything you have in it. Do your best and move on," Edgerson said. "And I think some of the guys overcame their issues, and (he) probably helped them stay to make the team."
But in a competitive business, not every player could stay. Abramoski also comforted these players, his resounding message that life doesn't end at training camp. There is so much more to experience. And if necessary, he was silent and let the players speak.
"He always had an ear for what the players had to say," Edgerson said.
The accolades he received were secondary to the relationships and hard work that got Abramoski there.
"I knew (the Greater Buffalo Sports Hall of Fame) existed, but I never thought about it," Abramoski said in 1996. "All I was was a guy doing my job. … I just tried to do my best and work as hard as I could.