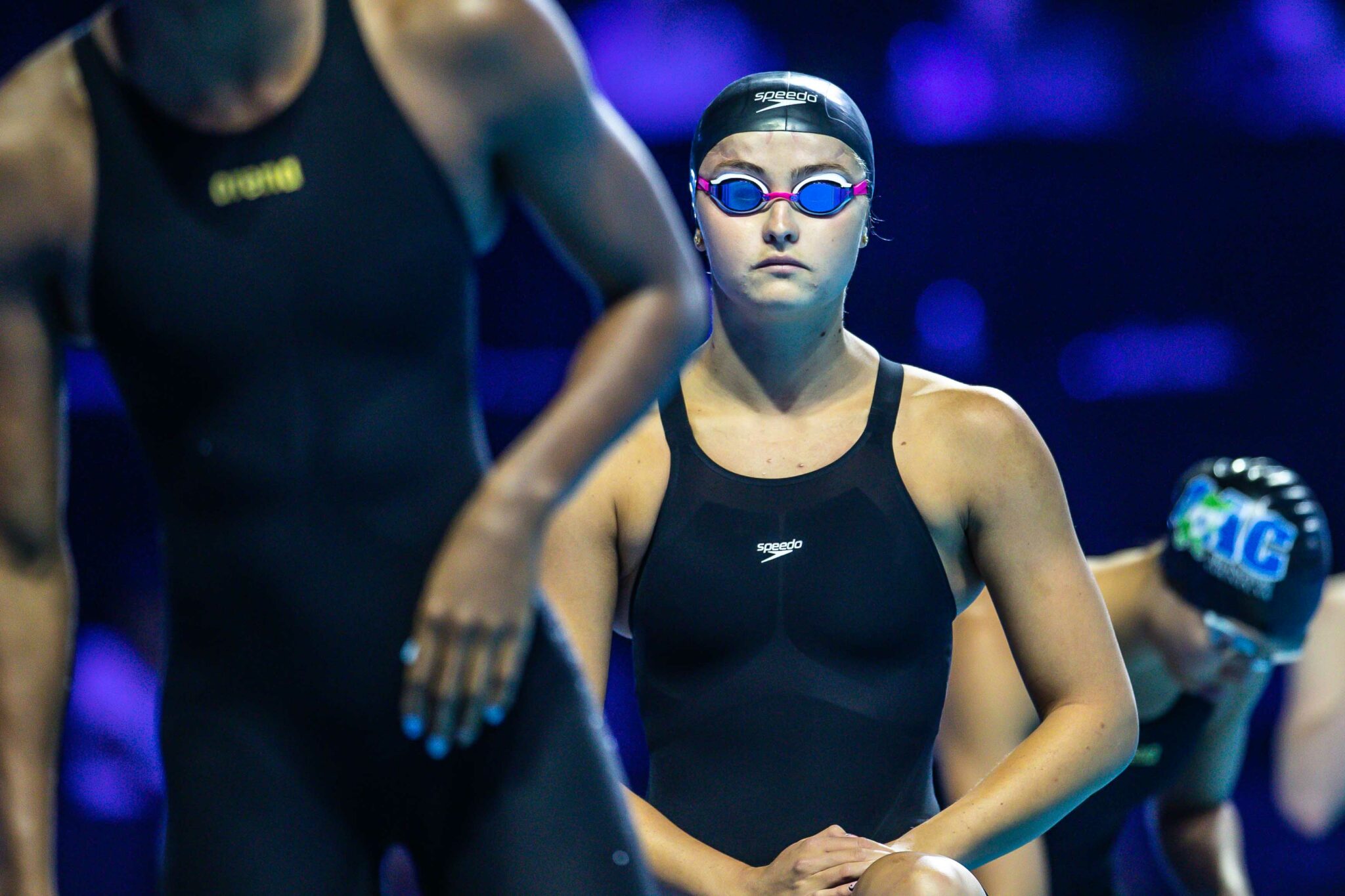 Katie McLaughlin's career that didn't go as planned
Katie McLaughlin describes herself as a planner. She said she was detail oriented and if given a plan she was reluctant to deviate from it.
On paper, the 24-year-old McLaughlin appears to have stuck to the plan that many elite athletes are working towards: at the 2020 Olympics, this The Speedo Team the athlete helped the United States team win the silver medal in the 800m freestyle relay. Prior to that, she broke the U.S. record in the 800m freestyle relay at the 2019 World Championships, joined the International Swimming League as a member of LA Current, and has represented the United States internationally since swam at the Olympic trials in 2016.
But life hasn't made swimming easy for McLaughlin. In 2016, she broke her neck in her freshman year at Cal, abruptly ending the career of one of the nation's top swimmers. After recovering from that injury, a few years later she suffered a shoulder injury that required surgery, all in the midst of a global pandemic.
Bouncing back wasn't easy for McLaughlin, but she said she learned over time to work at her own pace and continue to build her career, even if it wasn't in the timeframe she had originally envisioned.
"I have to do it again"
McLaughlin came from an athletic background – her mother swam at USC and her father played soccer at Indiana – but she didn't start swimming until she was 9 and played other sports simultaneously until 'in high school. As a result, she said she never felt any pressure to perform well in the sport early on.
"My parents were super, super supportive and wanted me to have fun and be a good all-round athlete, instead of categorizing me as super, super young," McLaughlin said.
Despite her relatively late start in elite swimming life, she managed to make her first major encounter in 2013, at the FINA World Junior Championships. There, she won four medals: gold in the 200m butterfly and 800m freestyle relay, and bronze in the 400m freestyle relay and 400m mixed medley.
McLaughlin's success continued and she generated a buzz in the swimming community as someone to watch. At the 2014 Phillips 66 Nationals, she finished second Camille Adams at 200 butterfly. This event earned her a spot on the national team, where she was able to compete in the Pan Pacific Championships that same year. In 2015, McLaughlin competed at the World Championships, helping Team USA win gold in the 800 freestyle relay.
"That meet was really cool, and after that particular stint, I was so excited," McLaughlin said. "I was like, 'Okay, we're approaching the Olympic year, it was super awesome, I have to do this again,' I just wanted more. I felt really excited for next year and really confident for 2016."
But at the end of her first semester at Cal, her swimming career took an unexpected turn. While on her team's training trip to Hawaii, McLaughlin dove into the water and injured her neck. Although she was able to breathe, talk and walk, she said when she tried to swim again, her body wouldn't let her.
After a visit to the doctor, McLaughlin was told she had broken her C6 vertebra and with such a severe neck injury, she would barely be allowed to move. the doctors told her she would have to keep her neck brace on for six weeks.
"When I was in the ER…that's when I started doing the math," McLaughlin said. "My first thought was the NCAAs and the Pac-12s, will I be good for this?"
Although she thought she could stay in shape by kicking, McLaughlin said she quickly learned that one wrong move could lead to a serious spinal injury.
"I had painted a picture in my mind that I could just snorkel with my hands at my side," McLaughlin said. "But even things like that, wearing a snorkel or breathing too hard, for some reason hurt my neck. I couldn't even do that.
The long way back
McLaughlin's process extended past the six weeks, though she returned in time to compete in the Pac-12 Championships, finishing 14th in the 200 freestyle. She said she was going to physiotherapy four times a week to help her regain her range of motion, and although the bone had healed, her nervous system remained damaged, leading to increased sensitivity which limited her mobility.
At the Olympic trials, McLaughlin qualified for the 200 m freestyle and 200 m butterfly finals, but did not make the team.
"I couldn't have done much else, but obviously I'm disappointed with how it turned out," McLaughlin said. "Testing is quite difficult, because I had had the success the years before, and that was kind of the trajectory of my career – going to Rio.
McLaughlin said that initially she didn't do well to be proud of what she had accomplished, feeling rather embarrassed. She said she was lucky to have the college season to look forward to after tryouts. She trained on fun moves for her, like butterfly and IM, and she said it helped her reorient herself and get things back on track.
However, she said she struggled the most in the build-up to the World Trials and felt the most pressure to make the team because she was no longer injured.
"I wasn't having a lot of fun and I didn't make the team," she said.
Instead, she competed at the World University Games, where she clocked 2:13.85 in the 200 butterfly, a time she was not proud of. She said that time, however, helped her realize that she had changed as a swimmer, and that her best run in 2013 was not her best run in 2017. She said she doesn't didn't need a single event to prove she was a good swimmer. .
In her freshman year at Cal, McLaughlin said she started enjoying swimming again. And when she placed 2nd at the nationals in the 100 butterfly, she said she felt like she had overcome her setbacks, and the race is now one of her two Make Waves moments.
"It took this race to get my confidence back, and for it not to be in the 200 butterfly, but in something else," McLaughlin said. "It validated me. Maybe my swimming wasn't on a timeline I wanted – it didn't show up in 2016 or 2017 as much as I wanted – but that doesn't mean all the work that I put in over the past two years wasn't just for nothing."
Another injury and another comeback
McLaughlin swam her first professional meet at the 2019 World Championships, and she said with her graduation festivities and the warmer weather, she was really enjoying life in general. But in December, she was injured again, this time in the shoulder. She withdrew from some ISL competitions and was limited in the amount of training she could, to the point that she couldn't rationalize very well.
She said she ignored her injury, but did not swim well in her competitions. She said she felt she didn't have time, however, to properly attend to her injury.
And then the pandemic arrived. McLaughlin said while the pandemic was horrific, it forced her to take care of herself and have surgery to fix her shoulder.
"I could actually slow down and take care of my health," McLaughlin said. "It's something important to remember in general, your health, not just physical."
In 2021, McLaughlin made the Olympic team and eventually finished second in the 800 freestyle relay.
Now, she said she cares less about setting a schedule to keep swimming, and more about swimming while she enjoys it.
"Not having a plan forces me to be real with myself with where I am," McLaughlin said.
His other make waves moment helped her appreciate the sport more, she says. McLaughlin coaches North Bay Aquatics, and she said being part of this team helps her feel like she's contributing to something bigger.
"Having coached high school students, I feel like I'm making an impact," McLaughlin said. "They have an impact on me, and that's something that makes me want to keep swimming."
This feature is brought to you by Speedo, a SwimSwam partner.
Follow Speedo USA on Instagram.
Follow Speedo on Instagram.
Follow Katie McLaughlin on Instagram.