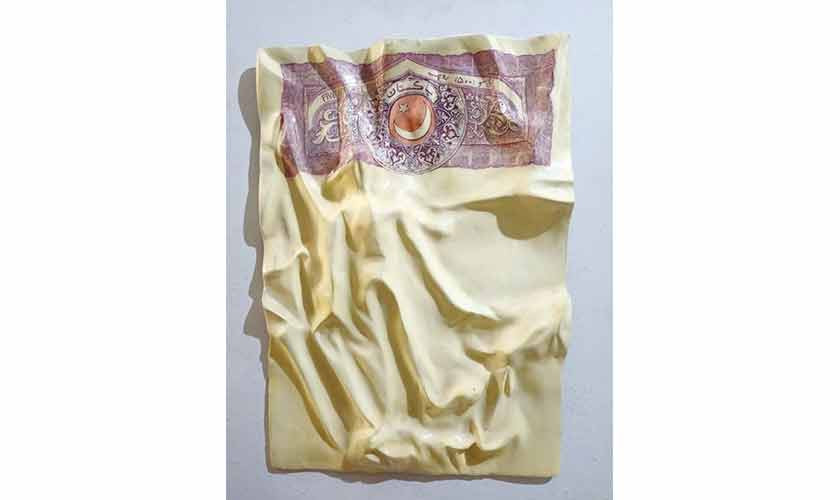 IIf one begins to enumerate all the forms in the recent works of Munawar Ali Syed, the list will be very long. There are many forms and they are of different types, ranging from natural entities to man-made objects; all executed in rows, all overlapping to create complex structures.
They almost look like puzzles, especially the ones you see in children's books. Mind and memory exercises, which require us to retain a jumbled collection of things, and list their names on another page after a single/brief glance. Many know these tests of observation and concentration, arduous but engaging because we unravel the cluster, we separate all the items and we put them in a sequence – not physically, but mentally. Such an effort could cause a person to remember every object even after half a century.
Syed's wire sculptures provide the same fun and challenge. These captivate the viewer to spend more time than usual in front of or around each piece of art. Combinations of outlines, birds, animals, human babies, bric-a-brac, weapons and toys are linked like puzzles, inviting – in effect forcing a viewer to locate each item. An activity that leads to the title of the exhibition, Talaash-i-Gumshuda (Looking at for the lost) which was held from December 31 to January 10, at O ​​Art Space Lahore.
What lies in this surge boils down to a number of ideas, connections and connotations. In his paintings as in his sculptures, the outlines of superimposed figures and objects are reminiscent of Michael Craig-Martin. The British artist superimposes "ordinary everyday objects" in outlines of different colors. His work has been featured in Lahore at a sculpture exhibition, changed world, organized by the British Council Pakistan, at Lahore Fort in 1997. Sculpture students from the National College of Art participated in the installation of this exhibition. Munawar Ali Syed was one of them.
That early exposure to Craig-Martin's art, when Syed was in his third year of his sculpture major at the NCA, seems to have stuck. It also seems to have been resurrected in the last body of his work, in which lines, either drawn in ink or fashioned in metal, are placed in random groups. But there the link starts to stutter and shift.
Craig-Martin, in his seemingly neutral and subtle tones, selects products that reveal human substance, things you touch, hold, use and own. It is a reflection on human society that has been altered by mechanical goods and has come to be dominated by them. His work is a commentary on the "development" of a consumer culture. He observes, "many objects are now merging into one thing, so the phone is now the camera, the computer, the sat nav, the compass, the torch, the wallet, the television, the book, the reader of music, the briefcase, the paperweight: several objects condensed into one." This blurring of identification can also be read as a loss of identities in a homogeneous environment.
On the other hand, Munawar Ali Syed opts for a simplistic narrative – practical, joyful and focused on making. In his wire sculptures (entitled Between the lines) and diptychs (looking for home and In search of the soul) birds and animals and objects of distinct origin/function are traced. Some quickly recognized segments include dog, elephant, lion, pigeon, parrot, wolf, cow, bull, reindeer, rabbit and cat as well as products like chair, box, pair of scissors, a knife, a gun, paper planes, milk bottles and lollipops. next to the silhouette of a child.
That first exposure to Craig-Martin's art, when Munawar Ali Syed was in his third year of a sculpture major at the NCA, seems to have stuck. He was resurrected in the final body of his work, in which lines, either drawn in ink or fashioned in metal, are placed in random groups. But there the link starts to stutter and shift.
The list may be random but we speculate otherwise. One of Munawar Ali Syed's most accomplished earlier works was the sculpture of a buffalo perched on a base made of books (shown at Sindh Art Fest at Frere Hall Karachi, 2014). For some of his solo exhibitions in the past, he has also created a number of wood and barbed wire books. This context offers a passage to read his new works at O ​​Art Space, Lahore.
Syed's animals, birds and other elements are like pictorial words: lines that evoke images of a living being or a familiar reality. The way these are drawn in whitish tints on a dark background in his two paintings is similar to the chalk inscriptions on blackboards in classrooms. Although these are not as laid back, free and intense as some of the works of Joseph Beuys and Cy Twombly, Syed's decision to depict every object (living being or otherwise) in a neutral, elemental tone can go back to the institution and the framework of learning in among us.
A child with a bottle and a pacifier can allude to how, growing up, one is conditioned to a specific character. It starts with the primer. A student is trained, groomed, and brainwashed through alphabets coupled with their meaningful images. For example, A for apple, A for Adam or A for plane; and C for cat, C for bicycle or C for car; and P for parrot, P for gun or P for Pakistan. There are messages that are more than a link between the letter and the word. These also include messages about class, identities, societies and histories.
Munawar Ali Syed refers to these and other knowledge-transmitting instruments employed by authorities to shape minds, adding a knife, a pair of scissors or a firearm to his stock of images. Besides its many nuances, Syed's work is a rare example of masterful execution. The precise outlines of these elements (which look like words in some languages) also suggest a confusion that is initially pictorial, but can extend to the societal and economic, on the practice of pedagogy, which in addition to transmitting "selected" knowledge, introduces a specific world to see.
A few works from the recent exhibition denote the look, impact and imposition of strict training. A majority of artists and others in our society have spent their formative years struggling with the English language, its grammar, spelling, adjectives, etc. For some, art offers a way out, a substitute for the "other" language. But once a young person is enrolled in an artistic institution, he is instructed in the dogmas of artistic creation: chiaroscuro, proportions, perspective, resemblance, reproduction. Munawar Ali Syed questions these norms through two of his works created in 2020, under the common title In Search of Knowledge-1996. The first a blank page from an English composition notebook, and the second, a pencil sketch on paper – both made with graphite and acrylic on fiberglass. One is a page from a student's notebook and the other is a drawing sheet; both are wrinkled. Both books allude to our education system. These can also rekindle the frightening (but ultimately fruitful) experience of Munawar Ali Syed – and many others, who attempted the NCA entrance test consisting of an English essay and relying on the observation.
Thinking about the title of the exhibition, we realize that in the search for the disappeared, Munawar Ali Syed is looking for himself, his past as a student and his story as an artist. But when you search for misplaced belongings, you may also discover unrelated items. It's like driftwood. Along the same lines, his works on paper (quarantine diary) seem unnecessary. Their addition to the exhibition seems as unnecessary as the appendix of a book or the appendix of a human body.
---
The writer is an art critic based in Lahore