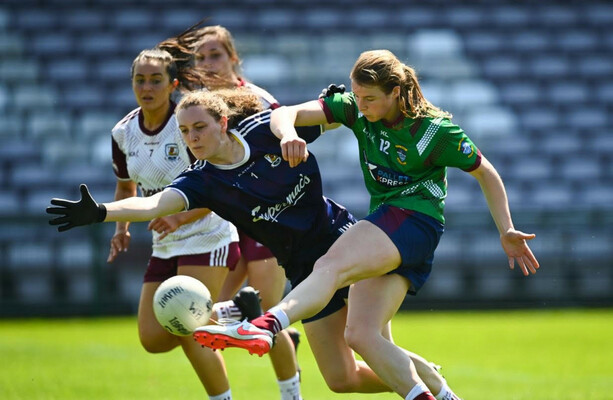 "My father joked, you know I'm English, I don't know the rules of the game"
COROFIN HAS BEEN home to the Andy Merrigan Cup five times and although he comes from a family not steeped in the usual sporting tradition, Dearbhla Gower grew up rubbing shoulders with some of the team that has dominated the all-Ireland men's club scene of late. years.
Gower, who walked away from the Galway facility this year due to work commitments, was next door neighbor to Corofin stars Liam, Cathal, Darragh and Seán Silke.
"When I was very young, I was around eight or nine, I used to play with the guys, all my neighbors, I'm actually neighbors with Liam Silke and a lot of the Corofin men's team," Gower said.
"I played with the guys until I was about eight years old. But then I got upset because apparently I wasn't allowed to play games with them. So my poor dad, to keep me from losing interest, created a team of girls under 12 for the ladies of Corofin. He just asked if there was any chance I could train with them.
"The manager was lovely; she said she would try to give me some playing time, five minutes at the end.
However, the Corofin U-12s only had 13 players that day, so eight-year-old Gower had to substitute for the full slog. It was another tough introduction for the future goaltender named TG4 All-Star.
Eventually, she joined a more suitable age group and her father, David, was brought in to help her train.
"The manager was struggling to get people to help so he asked my dad because he was at every training session dropping me with another girl in training," Gower said.
"My dad joked, you know I'm English, I don't know the rules of the game. And your man Bernie Glynn said to me, 'as long as you can pick up cones, that's all you must be able to do'.
David Gower went from cone collecting to Corofin LGFA Secretary and then Registrar for a long time before finally taking over as President.
It was an unlikely journey to the top, but Gower achieved it through great dedication to the club over several years while his daughter paved the way to senior Galway Ladies training.
Dearbhla Gower has made the senior team and gradually become one of the best goalkeepers in the country – she was nominated for a TG4 All-Star last year, alongside Meath's Monica McGuirk and Ciara Trant from Dublin.
But of course that was McGuirk's price after a celebrated year for the Royals as Gower was forced to rethink her future at Galway, work and travel making that impossible.
The 24-year-old is a veterinary nurse at Ark Vetcare in Kilmacud, and although she had to give up her cross-county ambitions for the time being, she wanted to keep football going somehow.
"I have just transferred to Kilmacud Crokes in Dublin," Gower said.
Dearbhla pictured with her father, David

"I graduated from university in 2020 and obviously, like everyone else in lockdown, nobody knew what was going on. The only place to find work at the time was in Dublin. All my friends are here too, we all have jobs here.
"I completely uproot my life in Dublin then. I started my freshman year working full time and all that craic. So like the Galway experience, it was difficult to get around. It was exactly the same with the club. I love Corofin, I've been playing with them since I was eight years old. My father was very involved in the club too.
"But unfortunately I had to make the decision last year because I wasn't training and I wasn't starting. Kilmacud was so lovely when I played with County, if I couldn't come home they let me train with them because I knew a few girls from college.
"So I made the decision at the start of the season to just transfer with them. It was difficult and I talked about it a lot with my father and myself. At the time, I think it's the Good choice.
"I drive now but I don't have a car. But at the time I was not driving so it was very difficult to commute. This is obviously the reason why I could not commit to Galway this year.
The Galway ladies are going through their own period of transition with Maghnus Breathnach and Fiona Wynne at the helm this year, but they have Senior Championship winners Kilkerrin-Clonberne All-Ireland to return.
SEE THE SPORT
DIFFERENTLY
Get closer to the stories that matter with exclusive analysis, insight and debate in The42 Membership.
Become a member
Gower certainly won't be available in 2022, but she's determined to wear brown again in the future.
"I graduated about a year and a half ago, so I don't know where my life will take me. It's still realistically unknown," Gower said.
"You know how things change all the time, in terms of work. The main issue, I would like to go back and say this to Maghnus and the management and committee involved, if things change in the future, 100%.
"My dream would be to go back, having a Galway shirt on your back again would be amazing. But this year the commitment, and when you can't fully commit, there's no point in half committing , you are underperforming and dragging the team down.
For now, being an animal lover and working with animals is the perfect existence for Gower. When she was still in her final year at UCD, she and her roommates had a puppy, an old blind cat, newborn kittens they had to feed in the middle of the night, and a pigeon.
But those days are over as she focuses on her career for now before potentially wearing a Galway shirt again soon.
For now, she will be supporting her homeland every step of the way, and she knows they won't be far off in the TG4 All-Ireland Senior Championship this year.
"It was a good chance in the league for the other girls to step up and show up as well," Gower said.
"I think a couple younger girls got up and a couple girls who maybe took a break and came back. It was a good opportunity for them.
"Obviously I would say they are disappointed with the way the league has gone, but they will definitely learn from it. Last year we only reached the quarter-finals of the league, we We were also a bit disappointed, since we were finalists two years before.
"With all of that in mind, they'll learn from all of those things and hopefully carry on this year. And I'll be supporting them every step of the way as well.